Excelsior
Talk

3
1,008pages on
this wiki
Excelsior

Screenshots from a Youtube video.
Vehicle in Just Cause
Type
Presidents plane / military cargo plane?
Weapons
Unknown
Rarity
Extremely rare
List of owners
San Esperito Military, or governemnt

The Excelsior is the largest and rarest aircraft in Just Cause (1).
Appearance
Edit
It's a large plane with 6 engines. The engines look identical to the ones on the Alexander AX-14.
It's painted the same way as any normal San Esperito Military plane and it's decorated with the government symbols that can be seen on all army and air-force vehicles.
It's a fairly bulky aircraft due to the design of the cargo bay, which is shaped very similarly to the Alexander AX-14.
It serves as Salvador Mendoza's "Air Force One". The largest and most rear room in the plane is a windowless cargo compartment and has a bunch of wooden boxes in it. The next room is empty and has a side door. This is where Rico meets Salvador. No other rooms can be seen in the game.
Performance
Edit
Not much is known about it. It is known that a Rage Johnston F6 Comet can catch up to it pretty effortlessly. It's about as fast as the Alexander AX-14, but it's turning circle is a lot larger, seeing as it's bigger in every way.
This is the only aircraft that appears only once. It's seen taking off from the central runway of the
Mendoza International Airport
during the last mission
Taking Out The Garbage Vol 3
. After taking off, it flies south-west.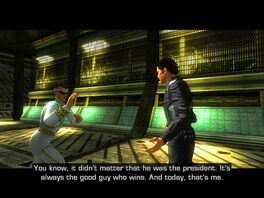 Other facts
Edit
The inside of the plane isn't really on the inside of the plane. The aircraft interior is located high in the sky and can't normally be seen. This has been discovered thanks to a rare glitch that lets Rico fall through the floor of that interior at the moment when he spawns there. There's no known fix for the glitch, but it's very rare, so if you do the mission again, you probably won't see it again.
It's not based on any real plane. It's just a big plane.
The name is revealed only once, during the mission where it appears. Rico is briefed that Mendoza is trying to escape on his plane and the aircrafts name appears on screen as the next mission objective: "Board the Excelsior plane".
The concept of a 6 engine plane is nothing unusual. Some planes in the 1930's had as many as 12 engines (before engines became more powerful).
Unconfirmed Rumors
Edit
If someone finds evidence or official comments from the game developers about these, then move them into the "other facts" above and state your source.
It might be called "Excelsior". Confirmed and article renamed.
The game developers might have originally wanted to include it in the game, like a normal plane, but it was somehow glitchy.
It is possible to fly the plane, this is done in the mission by getting to the airport before the plane spawns.