This article has been evaluated to be at quality level 5.
This article may seem complete to the untrained eye, but the gaps in information are still large enough for this elite team of Panauan Ninjas to hide inside of.
The
Pulau Kenjantanan
is an island group in
Just Cause 2
.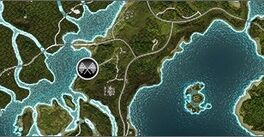 Description
Edit
The name means 'Manhood Island' in Malay and Indonesian. The "island" is actually a large group of islands, with two main islands to the north and south, and many small islands between. Though the group are counted as one island. The islands are located just opposite from the Rajang river delta. This "island" is the largest of the two in the Senjakala Islands district. The total length is about 6.4 km.
Settlements and points of interrest
Edit
Special locations
Edit
There's a lot of missions in the area. All are for the Ular Boys. This list only features the missions at this island and the neighbouring Pulau Naga.
Ad blocker interference detected!
Wikia is a free-to-use site that makes money from advertising. We have a modified experience for viewers using ad blockers

Wikia is not accessible if you've made further modifications. Remove the custom ad blocker rule(s) and the page will load as expected.