Rowlinson K22
Talk

0
1,008pages on
this wiki

The Rowlinson K22 is a helicopter in Just Cause 2.
Appearance
Edit
It's a small 2 seat helicopter, based on the real life Robinson R22. Hence the similarities in the names and appearance.
Performance
Edit
It has the shortest take-off time of all the helicopters in the game and when upgraded to 6 stars in the Black Market, it's also the fastest.
As tested by
Flexo013
, the maximum speed (at 6 stars) is about 195.9 km/h.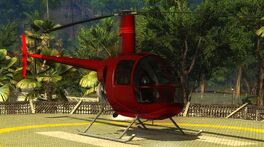 "Tested it by flying from a building and then turn back after 2 km. Started the timer at top speed and 1 km further stopped the timer. Did it 3 times. So I'm pretty sure. (195.9 km/h is the average of the three tests)."
However, the speed comes at the cost of being the most fragile helicopter in the game. If the rotors hit any surface or building, the helicopter will rapidly start smoking and a single crash against a building, even at low speeds, or a very hard landing, may cause the Rowlinson to catch flames and force you to abandon it.
When fully upgraded it becomes as good, if not better, than the proper attack helicopters in the game as it becomes very fast and manouverable. So much that its low armour doesn't matter because it can evade fire very easily. This doesn't apply when attacking soldiers, only other vehicles. 
None, but when upgraded to 6 stars in the Black Market, it has two machine guns fitted in the nose under the cockpit. These machine guns are not as powerful as the Miniguns on regular patrol choppers, having around the firepower of Machine Guns.
Upgrading the Agency version will improve them all, except for the red versions found at the Mile High Club ground base, which are always unarmed.
Locations
Edit
Its engine sounds almost the same as its real life counterpart, the Robinson R22.