This article has been evaluated to be at quality level 5.
This article may seem complete to the untrained eye, but the gaps in information are still large enough for this elite team of Panauan Ninjas to hide inside of.
The
Sawah lake
is a lake in
Just Cause 2
.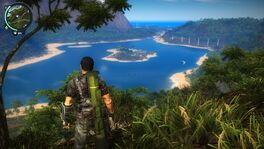 Description
Edit
The Sawah lake is unofficially the largest lake in Panau (When the actual size of the frozen one at Kastelo Singa being unknown), and the largest non-frozen lake, being more than 2 km long and 1 km wide. It's a part of the Sawah river, and is located in the upper part of the river. There are two islands in the lake, one larger in the middle of the lake and a smaller one near the western beach. The middle, larger island houses the settlement Pekan Tupai Merah, which is quite notable with it's large ancient temple, graveyard, church and a small airfield there.
There are also two major depths north and south of the middle island, at about 20-30 m.
Roadways border both sides of the lake. On the north-east side is the M2 Highway, while smaller roadways follow the southern and the western side.
6 Wind Turbines are found along the highway on the north-east side of the lake.
In East Tanah Raya, in the north part of the Sawah county. It's easily found on the map.
Ad blocker interference detected!
Wikia is a free-to-use site that makes money from advertising. We have a modified experience for viewers using ad blockers

Wikia is not accessible if you've made further modifications. Remove the custom ad blocker rule(s) and the page will load as expected.