This article has been evaluated to be at quality level 5.
This article may seem complete to the untrained eye, but the gaps in information are still large enough for this elite team of Panauan Ninjas to hide inside of.
Shimuzu ATV 55T
Vehicle in Just Cause 2
Type
Utility ATV
Weapons
None
Rarity
Common
List of owners
Civilians
The following statistics are from the official strategy guide.
Top Speed
35
Acceleration
32
Armour
27
Handling
30

The Shimizu ATV 55T is an ATV in Just Cause 2.
Appearance
Edit
This rather common vehicle is an ATV (all-terrain vehicle) with a roof and a roll cage. In reality, ATVs with roofs (often called UTVs) are rare and used for farming, rather than sport. This means that they're slower, but more powerful than the more common sports versions.
Most of them are grey, but they're also available in dark red, orange, dark blue, dark green and greyish white.
It's manufactured by the fictional Shimuzu company.
Performance
Edit
It's much faster than it looks, in fact for a vehicle of its type, it's very fast. It's also agile, being able to turn very well. The roll cage makes it great for rolling but it's not very durable. You get more protection from gun fire than other ATVs because of its roof and roll cage. The roll cage and roof keeps you from getting thrown off if you lose control. It is very handy for zipping around Panau. It is almost perfect for weaving in and out of vehicles due to its speed, great handling and size. It is one of the best small vehicles to use.
Locations
Edit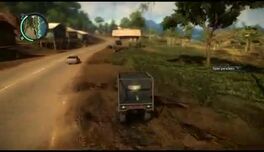 Spawns in traffic everywhere except for the Berawan Besar Mountains.
Parked at about: X:17710; Y:26000.
Parked at about: X:21740; Y:26140.
Parked in an unmarked settlement at about X:19015; Y:18645.
A unique bright blue one spawns at the first download location in the mission "Siphoning Gas". Unfortunately it only spawns during the mission.
Unlike with all other vehicles, it's impossible to look back, using the "look back" option. This is because the rear view camera is at a set distance from Rico and the edge of its roof blocks it.
This may have been intended to be a side by side or UTV (Utility Terrain Vehicle). Though in the real world UTV's have two seats and a steering wheel, while the 55T has an ATV seat and handlebars.
Fukuda Buckskin Trapper, the only ATV in Just Cause, also has a roll cage.
Ad blocker interference detected!
Wikia is a free-to-use site that makes money from advertising. We have a modified experience for viewers using ad blockers

Wikia is not accessible if you've made further modifications. Remove the custom ad blocker rule(s) and the page will load as expected.