This is a
disambiguation of sports cars
in the
Just Cause game series
.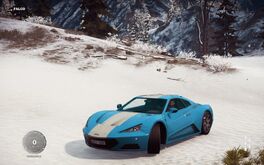 You were probably looking for one of these pages
Edit
An easter egg in all games
Edit
Main articles: Easter Eggs in Just Cause and Just Cause 2 and Easter Eggs in Just Cause 3.
One sports car in JC1 and all of them in JC2 mention "AVALANCHE", or "Avalanche Sport" on their tires. This refers to Avalanche Studios.
JC3 also has "4VAL NCH" license plates, but all cars can randomly have that.