This article has been evaluated to be at quality level 5.
This article may seem complete to the untrained eye, but the gaps in information are still large enough for this elite team of Panauan Ninjas to hide inside of.
Stationary vehicles are present throughout the
Just Cause game series
. For other vehicles, see:
Vehicles - disambiguation
.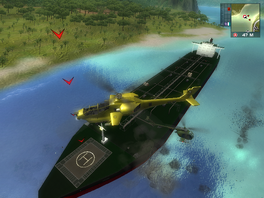 Description
Edit
They can't move under their own power, or can't be moved at all.
Other type of special vehicles are the Amphibious vehicles and Vehicle wrecks. Several of the stationary vehicles are actually also vehicle wrecks.
Just Cause
Edit
Just Cause 2
Edit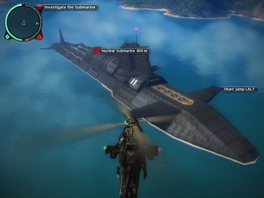 Just Cause 3
Edit
Vehicle name
Vehicle type
Description
Aircraft carrier (no name).
Aircraft carrier.
Excavator.
Giant bucket-wheel excavator.
These are very large mining machines at some mines. They function as Sabotage Destructible Objects.
Mile High Club wreck.
Airship.

Crashed wreck of the JC2 Mile High Club.
Club wreck is under water next to the Stingray. If this one is to be considered canon, then the other wreck is not necessarily the same one from Panau. There could be a whole fleet of them in the Just Cause Universe.

Eden Airship
Flying ship of sorts.
Hovering giant ship with lots of weapons.
[Multiple.]
Vehicle wrecks.
There's multiple different types of wrecked vehicles at burned towns and at junkyards.
U41 Ptakojester
Cargo plane.
A Black Hand version of this plane is parked at an underground hangar at south-east Insula Lacrima. This plane is used in the cut-scene of the mission Stowaway.
Attack helicopters.
Attack helicopters.
There are two types of attack helicopters parked at the same underground hangar at south-east Insula Lacrima. Strangely, they're programmed the same way as normal vehicles, but Rico can not enter them.