This article has been evaluated to be at quality level 5.
This article may seem complete to the untrained eye, but the gaps in information are still large enough for this elite team of Panauan Ninjas to hide inside of.
Stirling STL-3 Octavio

Screenshot from game developers.
Vehicle in Just Cause
Type
Flying wing
Weapons
Unknown
Rarity
Canceled, unobtainable

The Stirling STL-3 Octavio is a canceled Fixed-wing aircraft in Just Cause (1).
Description
Edit
The main wings are at the back and the tail is at the front, as a
canard
. The aircraft has a single
ducted fan
engine, which is located at the rear center.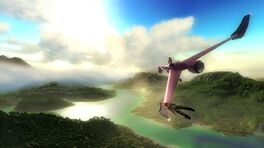 For some reason, the developers decided to cut it from the game before release. This is most likely due to it looking out of place at a place like San Esperito.
It's unknown if it still exists in the game files. If it does, there's a chance that it could be made to spawn through Modifying the game, but that's very unlikely to ever happen.
See also: Cut game content.
Ad blocker interference detected!
Wikia is a free-to-use site that makes money from advertising. We have a modified experience for viewers using ad blockers

Wikia is not accessible if you've made further modifications. Remove the custom ad blocker rule(s) and the page will load as expected.