This article has been evaluated to be at quality level 5.
This article may seem complete to the untrained eye, but the gaps in information are still large enough for this elite team of Panauan Ninjas to hide inside of.
Tropical peak
is a mountain in
Just Cause 2
.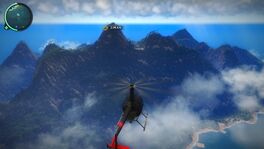 Description
Edit
The peak is about 980 meters high, making it the highest peak in the south-eastern regions of Panau. A dense jungle grows on the sides and on the top of the peak. It is very steep and has an impressive rise above the lower grounds. Unlike the areas around the Snow Peak and the Desert Peak, the area around this peak is totally uninhabited unless you count military bases. The nearest notable mountain is Carcavoda Mountain.
It seems like the local name of the peak is "Gunung Hutan Tinggi", which means "High Jungle Mountain" in Malaysian. There's a military base nearby named "Fasility Gunung Hutan Tinggi".
Tropical Peak is at the co-ordinates X:29200 Y:28065. Just east of Kem Komander Williamson, the base is located just below the top.
Ad blocker interference detected!
Wikia is a free-to-use site that makes money from advertising. We have a modified experience for viewers using ad blockers

Wikia is not accessible if you've made further modifications. Remove the custom ad blocker rule(s) and the page will load as expected.