Urga
(sometimes capitalized "
URGA
" and usually just "
UP
" or "
U
") is a company in
Just Cause 2
and
Just Cause 3
.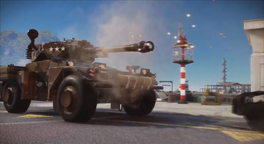 Product names
Edit
Strangely, some products are called "URGA", indicating that the name is an abbreviation, but others are called "Urga". Also, some products are named "UP-[something]", some are "U-[something]" and some follow no guidelines. We know they're products of the same company because their description at the Rebel drop says so.
Description
Edit
Urga is known to develop military vehicles and weapons. It has produced small arms, armored vehicles, planes, helicopters and boats.
Between Just Cause 2 and Just Cause 3, the company appears to have expanded its line of products. This could indicate an expansion of the company but it could also just indicate that the company has sold more products to Medici than to Panau.
Urga products are used by the Medici Military, the Panauan Military and The Rebellion.
The Art of Just Cause 3 collectors edition book states: "Our invented brand called URGA emulated Eastern European style vehicles and hardware designed for function and sturdyness."
In Just Cause 2, the company name is in capitals, while in Just Cause 3, the name is in lowercase letters.
Urga is an Eastern European company, likely Czech. Many of their products have Czech, Polish or Russian names.
In the JC3 weapons Rebel drop menu, Urga is stylized as "URGA", same as it was in JC2.
Ad blocker interference detected!
Wikia is a free-to-use site that makes money from advertising. We have a modified experience for viewers using ad blockers

Wikia is not accessible if you've made further modifications. Remove the custom ad blocker rule(s) and the page will load as expected.