For previous messages from late 2012 and up: Archive.
---
One more thing
Edit
I don't remember any of those old JC2 vehicle pictures being used that way, but don't replace a picture, if it's used in multiple articles. GMRE (talk) 18:24, December 9, 2014 (UTC)
Picture size
Edit
The reason why the standard picture size is 264 pixels is that not all computers have 1920+ pixel screens. In fact, according to Steam statistics, only about every third screen is 1920 pixels (it doesn't say how many have more, but probably very few). For example, the laptop I use here most of the time has 1280x800 pixels, which causes article content to be about 700 pixels wide. Do you know what happens when you make an infobox picture 350 pixels wide? How about if someone still has 1024x768? GMRE (talk) 16:38, December 11, 2014 (UTC)
I don't remember which article, but one JC2 location has a picture that's only something like 50 pixels tall. I guess someone started with a 3:4 screenshot and cut the sky and sea away, or something. Now that's a narrow picture. ;) GMRE (talk) 21:10, December 11, 2014 (UTC)
Idea for the next background
Edit
We ...um you should add some JC3 pictures into the mix. I was thinking, maybe replace the bottom two on the left and middle two on the right. Or maybe the middle two on either side. My proposals for JC3 pictures are: this and this (cut the lower edge and left edge off a little). Or maybe replace only 1 picture on either side at first and replace up to two more later when there's more brilliant JC3 pictures. GMRE (talk) 13:43, December 14, 2014 (UTC)
Main page christmas picture
Edit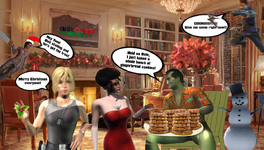 That's the approximate limit of my graphical design ability. Feel free to add a background, if you want. It took me around 2 and a half hours to remove their backgrounds and assemble it in Paint. GMRE (talk) 18:03, December 14, 2014 (UTC)
Nice background. Tho there is just one tiny little problem I have with it:
Could you do it in a way that doesn't block a part of Marias head with the bubble?
Rico is maybe too high.
The lines from the bubbles aren't pointing at their mouths.
You decreased the resolution. I can not imagine why that could be good, unless the background you used is that small.
Notice how the original cookie plate had an edge that gave it a more 3D look, instead of the current flat disk. Unfortunately I didn't remember to add the same extra edge to the inside of the plate.
There's a lot more cookies on the original picture.
You missed a spot of the background under Toms right arm.
You missed a spot of the background inside Bolos saw handle.
You missed a spot of the background between the tiny parts of the grappler mechanism at the point where the cable leaves the device.
You missed a spot of the background near Bolos... private area.
You missed a spot of the background near the lower end of Mr. Snowmans broom.
Now that you put Rico so high, it's possible to make Mr. Snowman a little bigger. I left him underscaled, because there was no room for him and I didn't want to make the picture much wider just for him, because of how well Ricos legs were fitting around Toms chair. But I guess since they're indoors, the snowman doesn't have to be a full scale one.
I'll undelete the previous version to make editing easier. I was thinking today that I should have added one more sentence to the end of Bolos statement, because of the way she usually makes certain type of references, but that may be a little too much: "My log cutter is waiting." This could have been a very wrong term for the saw, but it might also be interpreted as having a double meaning. Adding that would have been bad, because the picture is suppose to be as you put it "hilariously bad in the best way" and I doubt if it would still be funny ("funny" is used loosely here) to most people with a sentence like that. Also, just for the record, it took some effort to get the mistletoe into Marias hand. GMRE (talk) 16:52, December 15, 2014 (UTC)
P.S: Don't think I'm expecting you to work your ass off for every pixel, if the above makes it seem that way. Those are obviously minor things that would go unnoticed by most people. GMRE (talk) 17:21, December 15, 2014 (UTC)