This article has been evaluated to be at quality level 6.
Bolo finds this pleasing, but she would like more.
Winstons Amen 69
Vehicle in Just Cause 2
Type
Heavily armored military vessel
Weapons
Non-usable:
Torpedoes,
Depth Charges
Usable:
Miniguns
Rarity
Common
List of owners
Panau Military
Roaches
Reapers
Ular Boys
A foreign journalist
(in Stop the Press)
Some unnamed gangsters
(in Smugglers do Run)
Top speed (km/h)
101.18
Top speed (mph)
62.87
The following statistics are from the official strategy guide.
Top Speed
35
Acceleration
10
Armour
75
Handling
45
The Winstons Amen 69 is a military boat in Just Cause 2.
Appearance
Edit
It's the largest vessel in the Panauan navy (aside from the U1 Presidential Atomic Submarine, which isn't seen outside of missions). It's a large attack boat resembling a modernised American WW 2 PT boat, or British MTB (Motor Torpedo Boat), or an MGB (Motor Gun Boat).
Like most military vehicles it spawns in desert and jungle camouflage. Though it has exceptions in missions, and a yellow one at the Ular Boys HQ
Torpedoes - Unusable for player.
Depth charges (the barrels on the back) - Also unusable to the player.
Two Minigun turrets (one at the front and the other at the rear) - Making it a good vehicle for attacking military bases from the sea if the MTA Powerrun 77 is too rare or expensive for you.
Performance
Edit
The Amen 69 is a large, heavy boat with a powerful diesel engine driving two propellers, and so is fast enough to be a pursuit vehicle, but not fast enough to outrun a
YP-107 Phoenix
running at full speed, since the Amen 69 only has a low top speed and acceleration.
The heavy body and small rudders mean that it takes a while to turn. The best part of this boat by far is its armour. Unlike other boats which can only withstand a small amount of gunfire from a heavy weapons, the Amen 69 will keep absorbing bullets when the rest have been sent to the depths.
The Amen 69's heavily armoured body means that when crashing into a small boat at top speed the smaller boat will instantly explode, whilst the Amen 69 will take barely any damage from the crash and the explosion.
Locations
Edit
The Winstons Amen 69 is the least used
Panau Military
boat.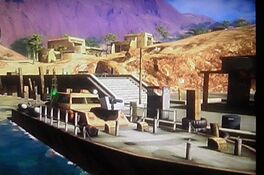 It also appears in various missions.
Ad blocker interference detected!
Wikia is a free-to-use site that makes money from advertising. We have a modified experience for viewers using ad blockers

Wikia is not accessible if you've made further modifications. Remove the custom ad blocker rule(s) and the page will load as expected.